NUTRITION
A customized nutrition strategy will not only help you feel great today, it will be one of the main predictors of a healthier tomorrow. We can help you sustain great eating habits that become an integral part of your lifestyle.
At Beyond Health, we work with anyone who wants to use nutrition to:
RESTORE health by resolving specific conditions, strengthening the immune system and improving digestion.
TRANSFORM their physical experience via weight loss or gain and improved energy level management, to enjoy greater confidence in their bodies.
PERFORM at their best, supported by the right food at the right time, in every aspect of life, work and sport.
Our Dieticians work to understand your concerns, needs and goals for health and performance. We help you set realistic targets and create the most appropriate nutrition strategy. Together, we map out practical daily routines with food recommendations that provide lots of choice and that suit your personal preferences.
We are confident that once you start fine tuning your diet, you'll discover how enjoyable and rewarding it is to make healthy food choices.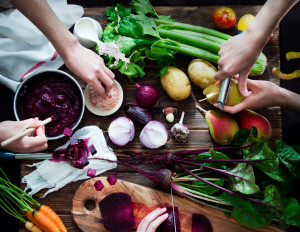 The Guiding Principles
We believe that a diet based on a diversity of fresh, seasonal and locally grown whole foods is the best approach for everyone. We promote the use of minimally processed food, and believe that home-prepared meals, shared and enjoyed with others, contribute greatly to physical and mental wellbeing.
Choose these foods often
Fresh, seasonal fruits and vegetables across the colour spectrum
Wholegrain breads and cereal foods
Low fat milk and dairy, cow-based or alternative
Oily and whitefish, shellfish
Lean beef, lamb, venison, pork
Skinless chicken, duck, turkey
Nuts and seeds
Pulses
Plant oils (olive, canola, rice bran)
Go easy on these foods
Added sugars
Salt
Saturated fats
Soft drinks, energy drinks, reconstituted fruit juices and other high sugar beverages
Confectionary, biscuits, cakes, muesli bars
High fat snacks
Caffeine-containing beverages
Alcohol
TESTIMONIAL
"My running and eating are going really well!!! I started to eat a lot of things and very varied which has made an incredible difference on my running. I am very strong and injury free.
"….I did a PB in my half marathon time with 1.31! so was all over the moon as I got fourth position in my category among 400 competitors. I think the difference now is that I eat a much richer diet by eating what-ever is on my plate and do not ration the portions anymore. So definitely was what I needed".
Helen
Marathon runner